Don't take our word for it…98% of our customers would use our service again.
At Robison & Co. we pride ourselves on offering professional and informed insurance advice and brokerage services – minus the jargon.
As part of our commitment to providing the best experience possible for our customers and improving the level of service we provide, we recently undertook our first customer satisfaction survey and we're happy to share the results.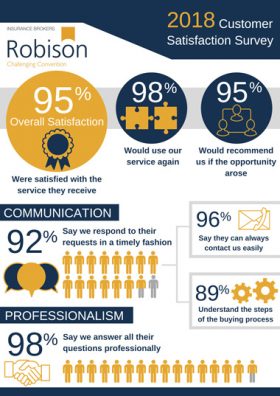 Simon Gubbins, Managing Director of Robison & Co., said: "We're really proud of these results. Insurance can be a tricky subject to get your head around and we do our very best to make it as easy to understand and painless as possible for our clients. Judging by the survey results we're achieving that!
Independent objective feedback like this is invaluable to our business, enabling us to better understand what our customers need from us, and identify areas in which we need to improve. I'd like to thank everyone who took the time to respond to the survey, as we very much value your feedback."
Whether you're looking for buildings insurance for multiple retail sites, professional indemnity for your law firm, or high net worth house insurance for your own private estate, Robison & Co. will help you identify your risks and design a bespoke policy that will protect you in the event of a claim.
For a quote, or a review of your existing insurance policies, please contact us on: 01730 265500 or email hello@robison.co.uk